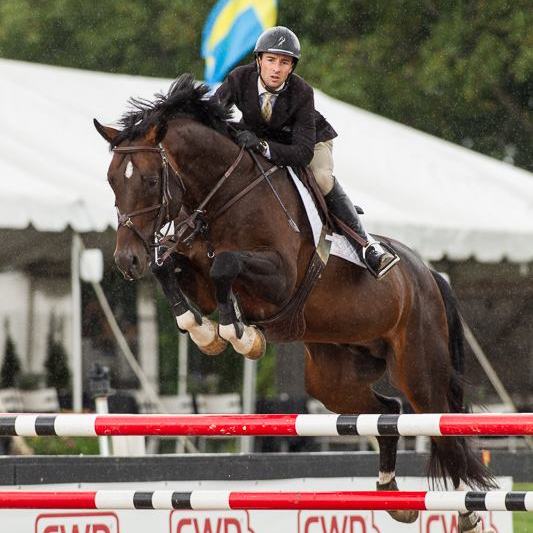 Registered Name: Klinton
Show Name: Klinton
BWP Number: 056-002-U09606619
Color/Markings: Dark Bay
Height: 17.0 hh
Date of Birth: 2010
Country of Birth: Canada
Breeder: Old Bull Farms
Year Licensed: 2013 Provisional
Stud Fee: $1,500.00 LFG – $250 add'l collections
Booking Fee: First Collection included in
Shipped Semen-Cool/Frozen: Fresh & Frozen
EVA Status: Negative
Standing At: Old Bull Farms
Contact: Dr. Paul Johnston
Street Address: P.O. Box 141
City, State, Zip Code: Newport, Nova Scotia B0N 2A0
Telephone Number: 902-798-4693
Fax Number: 902-798-2590
Email: ses@sn.sympatico.ca
Website: www.oldbullfarms.com
Owner of Record: Old Bull Farms
YouTube Video Link: www.oldbullfarms.com
Bio and Performance Record:
Klinton's pedigree is remarkable and very similar to Olympic Cornet Obolensky, who is currently ranked 3rd leading Jumping Sire by the WBFSH and FEI. Both stallions were sired by Olympic Clinton, with Heartbreaker as the dam's sire, and legendary Ramiro Z as a great grandsire. True to form, Klinton is a jumping machine, with tremendous scope and awesome technique.
Klinton was the winner of the 2014 Four Year Old Young Jumper Division at the Finals in Tryon, NC. Judges remarked, "talented horse with good reflexes and technique." Klinton went on to win classes as a 5 Year Old and qualified for the Canadian Young Horse Jumper Finals. Klinton jumps effortlessly with limitless scope and will move up to the Six Year Old Jumpers in 2016.
As a sire, Klinton consistently throws foals with great character, beautiful heads, elegant top lines, elastic movement, and correct conformation. He sired the second highest scoring filly with 84 points, on the 2013 BWP NA Keuring Tour. In 2014, three of five foals presented scored above 80 and all above 76. Klinton's oldest foals have been extremely easy to train with great temperaments.