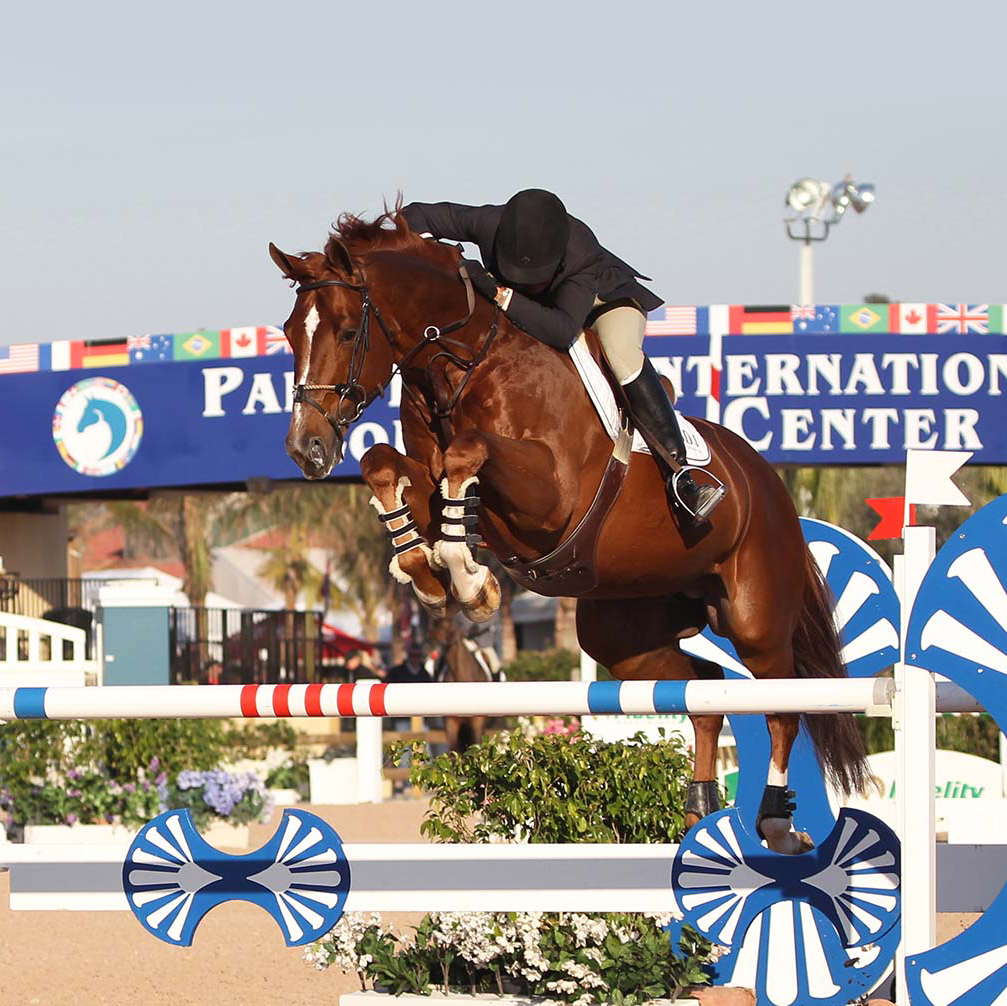 Registered Name: Obourg
Show Name: Obourg
BWP Number: BEL – 0-32102 – SBS
Color/Markings: Chestnut
Height: 16.2 hh
Date of Birth: 03/22/98
Country of Birth: Belgium
Breeder: Van Dijck Hengstenhouderij
Year Licensed: 2001
Stud Fee: $1,800.00
Booking Fee: $200.00 included in Stud Fee
Video Available: No
Shipped Semen-Cool/Frozen: Fresh
EVA Status: Negative
Standing At: Hyperion Stud, LLC
Contact: Vicky Castegren
Street Address: 4997 Sandy Branch Road
City, State, Zip Code: Barboursville, VA 22923
Telephone Number: 434-973-7700
Fax Number: 434-973-7773
Email: hyperionstudllc@gmail.com
Website: www.hyperionstud.com
Owner of Record: Flintwood Farm
Bio and Performance Record:
BWP 'Elite' Stallion Obourg descends from one of the best French dam lines to date. As a young horse, Obourg was considered one of the BEST jumpers of the Belgian Young Horse circuit. After his importation to the United States, he continued a very successful career at the Grand Prix level with Olympian Lisa Jaquin. Together they would have several top placings in the Grand Prix divisions throughout North America. Most notably they placed 3rd in the $25,000 WEF Challenge Cup and 2nd at the Tournament of Champions in Canada in 2007. Throughout 2008-2010 Obourg and Lisa placed 8th in the $50,000 Beacon Hill Grand Prix, 3rd & 5th in two $25,000 Princeton Grand Prix's, 7th in the Traverse City $30,000 Grand Prix and 7th in the D-Braider $30,000 Grand Prix.
Obourg's Sire Richebourg, is highly ranked in the Belgian index of show jumping sires, and is considered one of the best stallions of his time. Richebourg is half brother to Olympic Quintus who finished 10th in the 2008 Olympic Games. As a 4 & 5 year old, Richebourg was crowned the Belgian Champion, and incredibly went on to be crowned the 6 and 7 year old Champion in France. At the age of 8, Richebourg was once again crowned the Belgian Champion with rider Jean-Claude Van Geenberghe, and at age 9 the "Horse of the Year".
Richebourg's Dam, Opaline des Pains, is one of the best breeding mares in history who produced seven Olympic Champions! She produced approved stallions, Jus de Pomme, Richebourg, Shogun, Quintus and Tresor D'Opaline.
On the Dam side, Jusquiame du Champenotte's sire, Oberon Du Moulin, had career winnings of over $180,000 and was a finalist at the Fontainebleau 4,5 and 6 year old Championships. Throughout his career he placed in more than 20 National and International Grand Prix classes.
Obourg is a superb sport horse and a fantastic progenitor. He has several top offspring winning at the top International Grand Prix level like Espyrante with Daniel Deusser, Horizon de Regor with Jos Lansink & High Valley with Bertram Allen. The percentage of offspring that Obourg has produced that have reached the top level continues to rise each year.