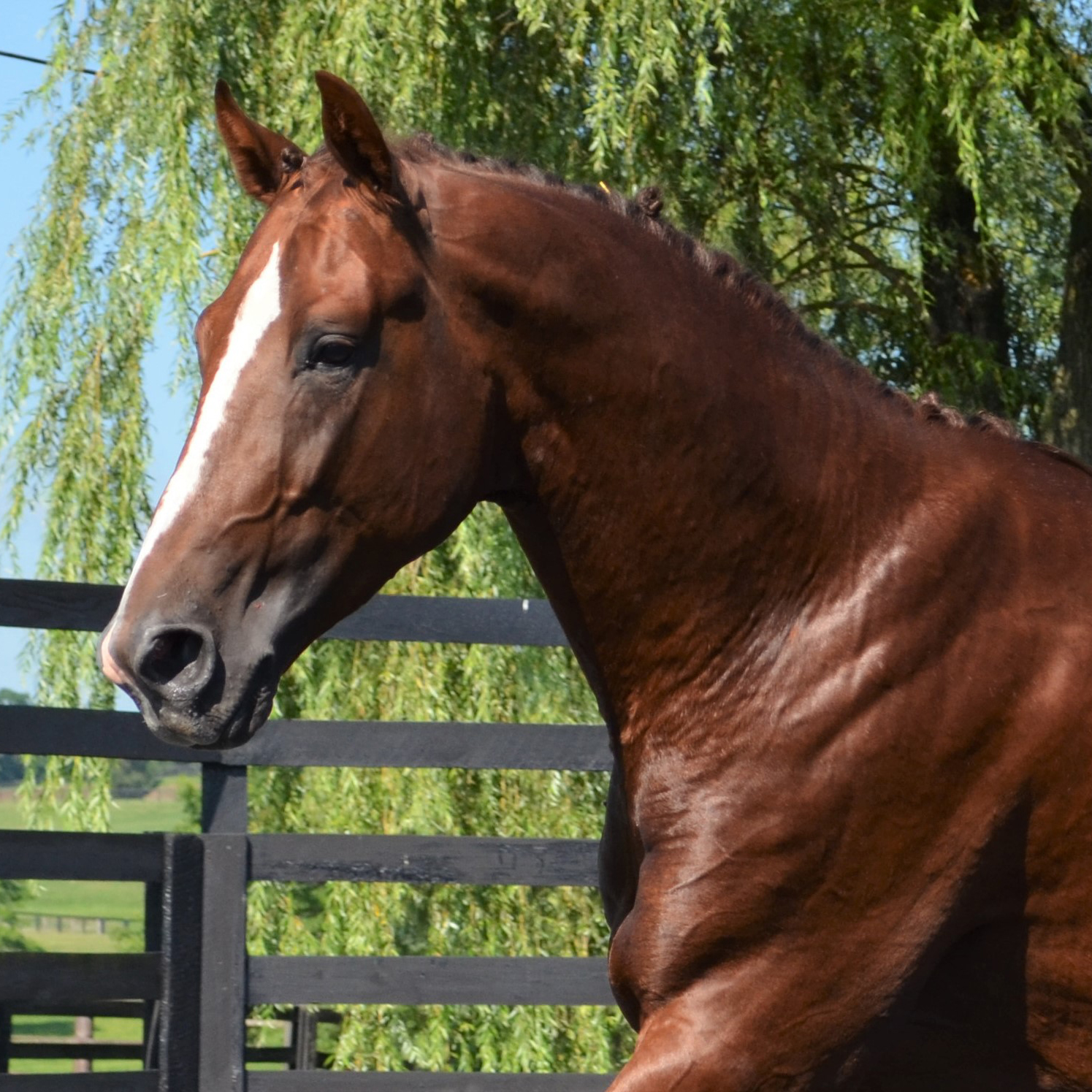 Registered Name: Opus One BC
BWP Number: 056-002-U09706558
Color/Markings: Chestnut
Height: 16.1 hh
Date of Birth: 05/05/2014
Country of Birth: USA
Breeder: Blue Chip Bloodstock
Year Licensed: Provisional 2017
Stud Fee: $2,000.00
Booking Fee: $500.00 included in stud fee
Shipped Semen: Fresh and Frozen
EVA Status: Negative
Standing At: Blue Chip Farms
Contact: asoukup@bluechipfarms.com
Telephone Number: 314-496-5424
Fax Number: 845-895-2110
Email: sporthorse@bluechipfarms.com
Website: www.barnlog.com
Owner of Record: Blue Chip Bloodstock
Opus One BC is out of Kidjaz BC, a clone of the legendary double Olympic Gold medalist, Sapphire. Opus is the first stallion ever approved out of a cloned mare and is sired by the Elite BWP/NAD stallion, Ultimo van ter Moude (Ultimo Rouge) who jumped to several Grand Prix wins with Todd Minikus including 1st in the Grand Prix North Coast Jumper Classic, 1st in the Grand Prix Beacon Hill, 1st in the Grand Prix HITS, 2nd CSI3*Grand Prix Bromont, 3rd in the Grand Prix (FEI) Hampton Classic, 3rd in the Grand Prix CSI3*American Gold Cup: 5thin the Grand Prix Lake Placid and several other top placings in the Amateur Owner division.
Ultimo Van Ter Moude, is one of the last living sons of the great Capitol I & is uniquely bred to the famous French lines of Major de la Cour and Jalisco B. Capitol I is, without a doubt, one of the most influential stallions in jumping-horse breeding producing more than 40 approved sons including the stallions Carthago, Caproil, Cento, Cassini, Clinton, Carolus II and Indoctro. BWP-Ambassador, Major de la Cour, sired more than 30 Grand Prix horses including Franke Sloothaak's Olympic Gold-winner Joli Coeur and Alison Firestone's international show jumper, Major.
Ultimo now stands in Europe at Stal Hendrix. The very few offspring he sired prior to being sold to the U.S. as a 9YO have reached International level winning top Grand Prix classes including the French stallion, Quartz Rouge, who competed in the European Championships in Aachen in 2015 and represented France in Nation Cups. Other top offspring of Ultimo include Rouge Pierreville (Edwin Smit), Ramona de Flobecq (Andr. Thieme), Quecheu d'Emeraude (Luis Ferreira) and Soraya Rouge (Allan Pacha) all successfully competing at Grand Prix level.
Of the 28 total offspring of Ultimo Van Ter Moude (6 are 6YO and younger), Six are jumping 1.60m, three at 1.50m & six at 1.40-1.45m level.