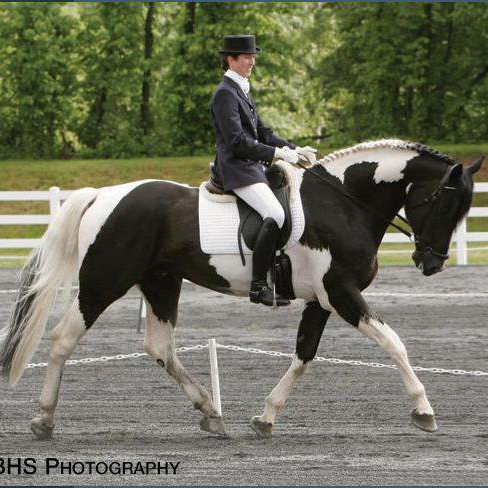 Registered Name: Socrates
Show Name: Socrates
BWP Number: 154467-BWP 1828-HGT
Color/Markings: Pinto
Height: 17. hh
Date of Birth: 08/20/1995
Country of Birth: Belgium
Breeder: Deferm Wout
Year Licensed: 2003
Stud Fee: $1,000.00
Booking Fee: $250.00
Video Available: Yes
Shipped Semen-Cool/Frozen: Yes EVA
Status: N/A
Standing At: Greener Pastures Equine
Contact: Randy Johnson Greener Pastures
Street Address: 1600 Comus Road
City, State, Zip Code: Clarksburg, MD 20971
Telephone Number: 301-349-2541
Fax Number: 301-349-2243
Email: greenerpasturesequine@gmail.com
Website: www.greenerpasturesequine.webs.com
Owner of Record: Randy Johnson/ Greener Pastures Equine LLC
Bio and Performance Record: Socrates ("Soccer") is a pinto sport horse with exceptional lineage and character. His pedigree is world class including four top sires in the first three generations (Landgraf I, LadykillerXX, Feinschnitt, Wendekries). In line with his family history, he was the sire of the highest scoring filly in 2004 with a score of 84. Soccer was imported as a four year old from Belgium as a sport horse stallion prospect both for sport and for breeding. He presents himself with exceptional character and a calm, striking presence, composed, yet playful temperament, and extreme ease in handling. Being a rookie in dressage in 2005, he obtained a top performance record with numerous first places. His scores ranked consistently above 70% in first and second level, with a high score of 79%. He repeatedly received 9s on his gaits and comments on his expressiveness, talent, and energetic performance. Powerful, fluid movement and superior, expressive gaits; black and white appeal joined with a serene and good-humored temperament an outstanding pedigree, will be the traits to be inherited from this fabulous stallion. Socrates has been successfully throwing both Dressage and Jumper offspring all good looking, brave and talented.
2012 Results
77% Dressage at Lexington in the Sport Horse Mature Stallion class
75% Dressage at Devon in the Sport Horse Mature Stallion class