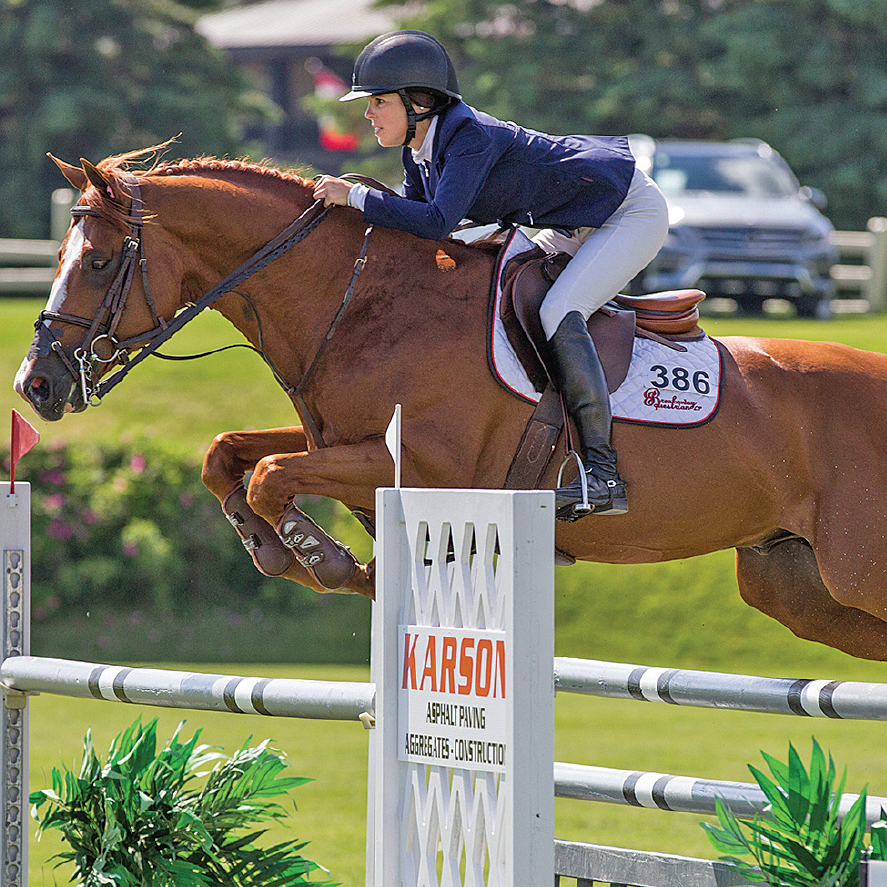 Registered Name: C-Wildfire
Show Name: Wildfire
BWP Number: Pending
Color/Markings: Chestnut Height: 16. hh
Date of Birth: 2007
Country of Birth: Canada
Breeder: Pedro Jus
Year Licensed: 2015
Permanent Stud Fee: $1,800.00 USD
Booking Fee: N/A
Video Available: BreakawayEquestrian
Shipped Semen-Cool/Frozen: Fresh EVA
Status: Negative
Standing At: King City-Summer, Wellington – Winter
Contact: Liz Bates
Street Address: 364 Russell Hill Road
City, State, Zip Code: Toronto, Canada M4V 2TA
Telephone Number: 416-575-4755
Fax Number: N/A
Email: ebb.bates@gmail.com
Website: N/A
Owner of Record: Liz Bates
You Tube Video Link: https://youtu.be/dot3MOS-ClY https://youtu.be/lcDFPesU5Pg
Bio and Performance Record: Wildfire is by the famous "Quidam de Revel" who was also the sire of the great producer "Nabab de Reve" among others. Under Hervé Godignon Quidam de Revel achieved extraordinary results in the showjumping sport. With Godignon he won team bronze medal at the Barcelona Olympics and was fourth individually. They won many Grand Prix' and competed several times in Nations Cups. On the World Breeding rankings for jumping stallions he was at the top of the list two years in a row. Several of Quidam's offspring jumped and are still jumping on Grand Prix level. He produced over 180 approved sons. Well known offspring are Bianca D'Amaury, Tlaloc la Silla (Dollar de la Pierre), Quite Easy, Quite Capitol, Quidam's Rubin, Quasimodo Z. Guidam (sire of among others Authentic and former European Champion Ninja la Silla), Nabab de Reve (sire of London), Quinar, VDL Groep Verdi, Narcotique de Muze IV, Kyraleen and many more. Dam "Prestige de la Vallee" aka "Jade" was a successful competition mount for Olympic Gold Medalist Eric Lamaze, and 3 time Canadian show jumping champion Yann Candele, and the NAYR senior mount of Sydney Vince. She had consistent results at the Grand Prix level and is a proven performance mare.
2016 Performance Results:
10th, Grand Prix of Ising, 1.45-1.50m
2015 Performance Results:
1st $35K GP Ottawa Int'l Horse Show
1st 7 & 8YO Finals Bromont 2014
2nd Open Welcome of Ottawa Int'l Horse Show
6th GP of Rockwood
6th GP of Caledon
6th High A/O Speed Wellington
10th GP of Rockwood
12th Open Welcome of Rockwood